For those seeking solace in solitude during these turbulent times and covid isolation, I offer these minimalist paintings for comfort and contemplation.
"My paintings are not about what is seen. They are about what is known forever in the mind." -Agnes Martin
To truly see and appreciate Martin's paintings, which are quite large, you might want to click on the images and zoom in to discover how intricately they are designed and woven, how subtle the entwining colors, like the woof and warp of carefully crafted fabric. To see how the order and calmness of the design pulls you in and stills the mind.
When I try to imagine the crafting of such paintings, the meticulous grids, the fine, faintly undulating hand-drawn lines, the cool, retiring colors, the tedious and calming task of such minute work on such a grand scale, I am awed with wonder and delight. What it must have felt like in the moment, the mindstate one would have to have to create such a thing! The be that. To be there. To be. How marvelous.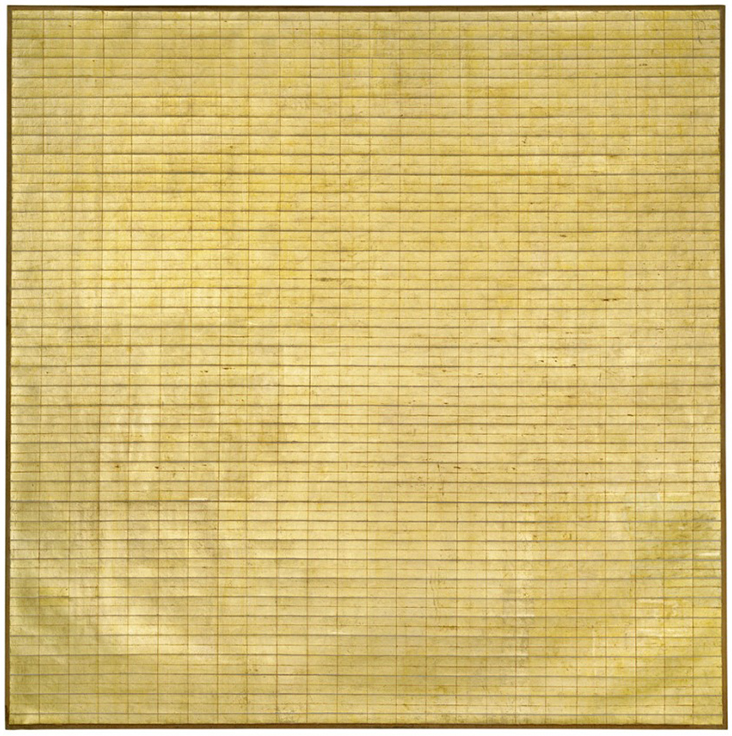 It reminds me of the huge difference between mind-calming and mind-numbing activities. Huge difference between no-thought meditation and blankness of mind. Subtle rivers of movement and color run through it, stir and dissolve, full and empty, bouyant, light, deeply comforting. An all-embracing, silently singing, hug.
The noted art critic Hilton Kramer once said Martin's work was "like a religious utterance, almost a form of prayer."
A few more paintings follow, as well as quotes from articles about Martin, her life, her works, and her philosophy.
"Martin, who died in 2004 in Taos, N.M., at age 92, was interested in sensations like the inexplicable happiness you might feel when you wake up in the morning — that fleeting feeling, sunlight tiptoeing on your eyelids as you break the surface of consciousness, when you're aware only of being aware." —Kelsey Ables, Painter Agnes Martin's Works Provide Quiet in a Noisy World, Washington Post
"Agnes Martin's world is one of order and tranquility, as minutely patterned grids and ruler straight bands expand across vast surfaces suggesting wide open space. Yet there is also sensitive musicality at play as lines tremble and colour relationships become vibrating rhythm, tapping into the profound realms of human spirituality." —Rosie Lesso, Agnes Martin: Mystic Minimalist
"According to Agnes Martin, both paintings and contact with nature can prompt a greater awareness of what she calls perfection. Her essential view of the world is of daily life superimposed on top of an underlying perfection. Both paintings and nature, she believes, provide opportunities for a glimpse into another way of being in the world. The work of art links the daily to the sublime; or, in Martin's terms, by engaging and moving the viewer, art can reveal the basic perfection. According to Martin, perfection is almost like a map, if we pay attention. Once we have received a glimpse of perfection, she believes, we can seek it on our own, and the reaction to perfection is joy." –Joanna Webber, The Image Journal
 "Nature is like parting a curtain, you go into it. I want to draw a certain response like this … that quality of response from people when they leave themselves behind, often experienced in nature, an experience of simple joy… My paintings are about merging, about formlessness … A world without objects, without interruption." –Agnes Martin
"Beauty is the mystery of life. It is not just in the eye. It is in the mind. It is our positive response to life." –Agnes Martin
"[Martin' adopted a palette of muted shades of brown, beige, gray and white, sometimes warmed by soft washes of pink, orange or blue. The colors and titles, such as "Mountains," "Dark River," "Starlight" and "Leaf in the Wind," suggested the landscape and skies of her adopted New Mexico. They were not realistic depictions but rather subtle evocations of the sensations and emotional weight of the natural world." —Matt Shudal, Influential Abstract Painter Agnes Martin Dies at 92, Washington Post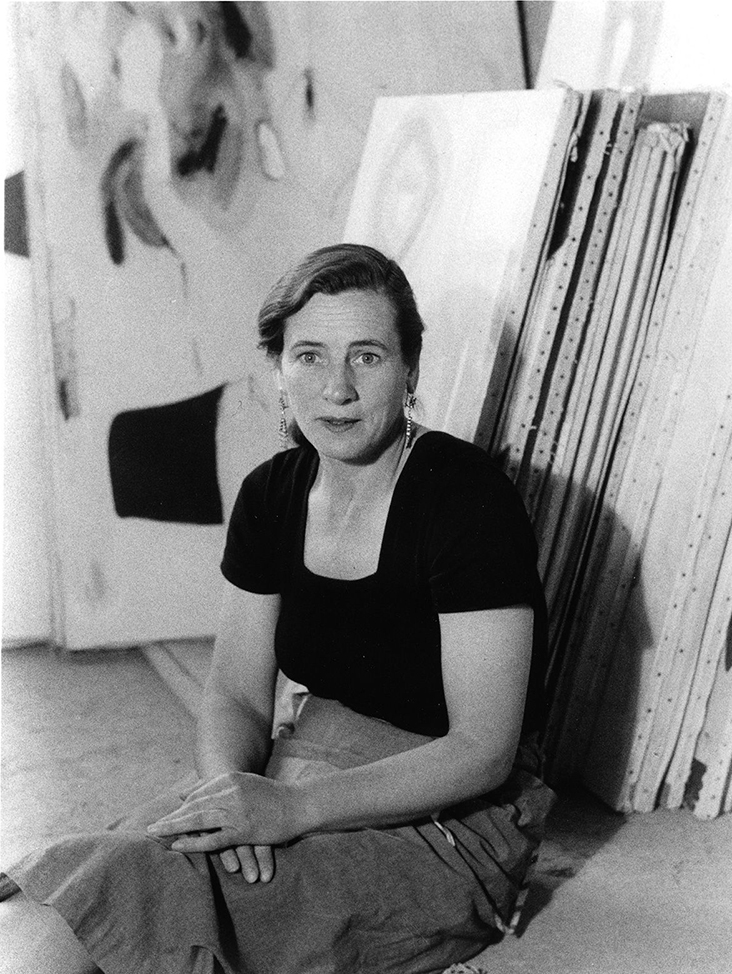 "Artwork is a representation of our devotion to life." –Agnes Martin