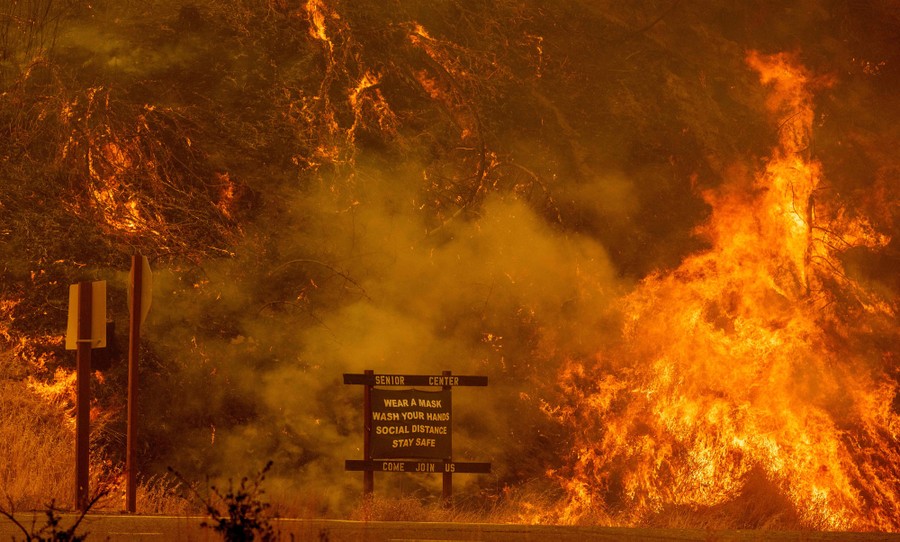 That unusual thunderstorm I wrote about last week brought more than 1200 lightening strikes that forked across California causing 560 wildfires gobbling up forests, homes and whole communities. The worst we've had so far, and the fire season gets worse each year.
We were fortunate here on the central coast. The few fires that struck nearby were quickly put out. But the state is ablaze north and south of us. Our county lies under a thick  pall of heavy smoke that fills the air with ash and fine particles. Air quality warnings are on high alert all around us. Our masks do double duty now, to protect us from Corona and the fires' fallout.
While all this was going on I was watching the Democratic National Convention, which shone like a glimmer of hope beneath the pall of smoke and burst aflame during the final days.
Here's what I wrote on Facebook after the convention:
I have been so inspired by the Democratic convention this week. I've been riveted all 4 nights, loving the new format, the intimacy and variety it brings, highlighting ordinary citizens all across the nation, republicans as well as democrats who are joining together to support this inspiring ticket to redeem the soul of America. While I was thrilled with the speeches by the Obamas, charmed by Jill Biden's loving endorsement of her husband, excited by Kamala Harris's acceptance speech, and cheered by so many others, it was Biden's speech that filled my heart with hope and joy. He is the leader I've been waiting for, the one who can unite and heal our country, who can bring decency, honesty, and integrity back into the oval office. Who will defend our democracy and protect our troops and restore our standing in the world. We will again be a city on a hill, a beacon in the dark, a champion of human rights around the world. I'm stoked and hope you are too. Please VOTE
Despite this excitement and new confidence that Biden will win the day, I worry about the day after January 20. There are so many wildfires he needs to put out before he can even begin to "build back better." Not least among them is getting this virus under control, getting kids back to school and people back to work. Replacing all the Trump-appointed heads of departments and agencies who have worked so hard to tear them apart. Recalling his ambassadors who wreck havoc overseas. Restoring our relationships with the WHO and NATO and the Climate Accord and so many other entities. The list goes on and on.
I think a President Biden administration will be up to the task. But it will be a long haul just to get back to zero, to the prosperity President Obama left for us before Trump ruined everything.  The challenge will be trying to do all this while also marching forward with new positive changes so needed, like ending systemic racism and guaranteeing affordable healthcare to one and all, in order to make this truly a "more perfect union"
The most most pressing problem to address, and the hardest in which to see timely results, is Climate Change, which contributed to all these wildfires and to the double hurricanes sweeping toward our Gulf Coast as I write.
Saving our planet from ourselves and for our children and grandchildren is priority #!. My fear is that with all the other fires we need to put out it will be put on a back burner. And if it is, who knows what devastation will be brought to our shores and across the globe next year, and the year after, and the one after that  . . . .
Photo credit – Josh Edelson / AFP / Getty. A senior center sign warning of Covid during Hennessey Fire near Lake Berryessa in Napa on August 18, 2020